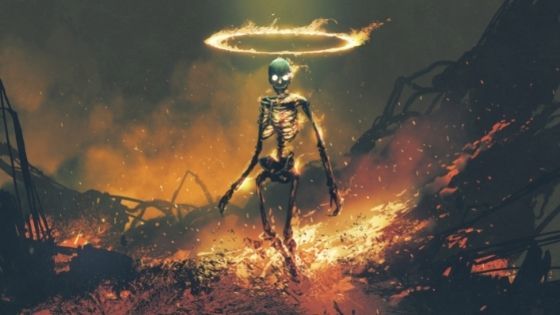 Evil Comes From The Darkness
Nina laughed and hooted raucously along with the frenzied crowd as the flames licked up higher and higher over. She raised her pitchfork and let out a long, loud whoop. A burst of hot, dry wind cycloned out from the flames and whipped her long, blond hair into her mouth just as she caught her breath. Nina choked and bent over to cough them out.
She looked up to see Vitek laughing at her. Another gust of wind blew sparks and smoke into his face, cutting his laughter short. Now it was Nina's turn to laugh, although she was careful to turn away from the blazing flames and protect her face with her arms.
"She who laughs last laughs best," Nina giggled.
Vitek scowled at her with an adorable pout that let her know he wasn't really angry at her. She knew he wouldn't be able to fake being mad at her for long. He was too easy going.
Nina scrunched up her face and shuffled toward him slowly with her arms outstretched. Imitating the foul creatures that they had come out to burn up and eliminate.
Her new boyfriend backed away from and pushed her arms to the side.
"C'mon, Nina. That's not funny. You shouldn't even be joking around like that. Someone might see you like that and run you through with a pitchfork."
She just giggled again and turned to watch the flames blazing higher and cackling louder. Nina thought she could hear a faint scream coming from inside the hut over the snapping of burning wood.
"I'm sorry about your auntie, poor thing," Nina murmured in a more serious tone.
Vitek shrugged. "She's gone, but at least we got the whole nest of them, so they won't be back to bother anyone else."
Nina shivered at the callousness in his voice. She wondered if he would have done the same had she been chosen to be the sacrificial victim to lead them to the Shuffler nest. She looked up to study his face. He didn't look back at her but continued to watch the flames intently.
"Where do you think they came from?" she finally asked quietly.
At first, she didn't think he had heard her. But then Vitek finally shrugged his shoulders.
"The same place from which all evil comes. Out of the darkness."
Nina mulled that thought over for a second. It seemed like such a trite phrase. It was what her people always said about evil, but she had never given it much thought before. At least not until the recent outbreak that led to them searching for this nest of evil that had corrupted three members of her town. People she knew. Friends and relatives swallowed up by it.
She was sad to know that they were inside the burning hut. Going up in flames. But at the same time, it was a relief to know that they would no longer be able to harm anyone else she knew and loved.
Nina thought of her parents. Thought of her twelve younger brothers and sisters. Her grandparents. Uncles and aunts and cousins. All would be able to sleep better and safer at night now that they had purged the forest of this contamination.
"That was a brilliant plan you came up with," Vitek said.
He stepped closer and wrapped his arm around her shoulder. Nina shrugged as she leaned into his comforting embrace.
"Anyone could have come up with that idea. Everyone knew it needed to be done. Nobody wanted to actually say it out loud though."
Vitek shook his head. "Not anyone. Most of us were in shock and couldn't think straight after the horrors we witnessed first with Theodor and then with Apolena. You kept your wits about you and thought straight when no one else could."
Nina blushed and buried her face against his chest so he wouldn't see. Although it felt good to hear him say those words, it felt wrong to enjoy this moment like this.
She had long had a crush on Vitek and had spoken to him once or twice before. But using a situation like this to finally catch his attention over the last few days felt wrong.
"I should be getting back to the village to check up on my siblings," Nina finally said when she finally pulled away from him.
Vitek pouted at first. She waited for him to smile. It didn't take long.
Nina turned to walk back down the trail toward her home.
"Wait," Vitek said. "You shouldn't be walking home alone in the dark."
The young woman smiled at the concern in his voice, but took a few more steps to wait for it to leave before turning to say, "Why not? There is nothing to be afraid of now that we set the evil on fire."
But Vitek was gone. He was no longer standing there behind her.
"Vitek!" she called out.
She took a few steps forward. Looking around.
"Where are you, Vitek. This isn't funny."
There was nothing. Only the sound of crackling flames. Suddenly it hit her that none of the other villagers who had joined their expedition were around either.
"Bonifac! Silvie! Where are you?" she cried into the darkness.
Nina circled the burning house. Most of it had burned up already. The weakened structure was caving in on itself.
"Sarlota! Where did you go? Libor. This isn't funny, you all." Nina shrieked shrilly into the chill night air wafting in off the forest surrounding the burning home.
The dying flames were no longer strong enough to push back the cold, night air. She shivered and backed away from the hut. Pressing deeper into the darkness. Hoping that somehow it would hide her from whatever was out there.
Nina knew it was silly though. Especially if what she had said was true. Evil came from the darkness. Running into the night would not save her.
She stood there. Torn between running deeper into the darkness down the path to her home, or staying close to the light of the flames.
Nina knew that it was pointless to stay here. The flames were dying slowly, and the little light that remained would soon disappear along with them. Even the more robust fires of a little bit ago hadn't been enough to keep her friends from disappearing.
She turned away from the dying flames. Waiting for her eyes to adjust to the darkness. Scanning the edges of the forest for any sign of movement. She backed closer to the warmth of the fire. It wouldn't last long, but for now, it felt safer than running into the darkness.
Nina had seen her friends that had been turned into mindless, shuffling monsters burst into flames. So, anything out there trying to get her wouldn't want to get close to the burning hut.
She heard burning wood snapping in the fire. A stream of sparks shot up into the starry night to her right. Nina looked up to watch the sparks blending in with the stars before dimming as they wafted up into the night air.
When she turned, Nina was utterly unprepared for the skeletal form standing in the midst of the flames and fire. She stumbled backward.
A ring of fire surrounded its head. Flames licking off of its bones, but without consuming it. As if somehow, it produced the fire from within itself. The skeleton's sockets glowed brightly as it stood there. As if watching her to see how she would react to its presence.
"No," Nina whispered to herself. Shaking her head. "Evil comes from the darkness. Not from the light and not from the flames.
Even though it had no lips to pull back into a smile, Nina felt like she could see it express its satisfaction at her dread and horror as it came for her.