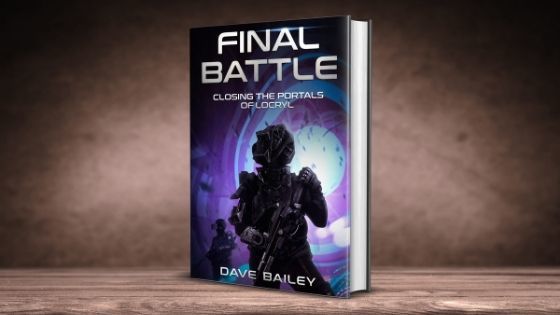 Art: Final Battle – Book Description
What if everyone hails you to be a great hero who would save them from their enemies and restore their land. They believe that you fulfill an ancient prophecy. Deep down though, you know that you aren't who they think and can't save them.
Get Your Kindle Version Here Or Audible Coming Soon
Meet Art!
Art is a scientist who has developed DNA-splicing technology to end disease and heal the sick.
Things take a turn for the worse when an ancient alien race tries to get their hands on his technology. They kill his wife. They kidnap his daughter. And force him to splice together DNA between a human and alien body.
Their goal? Create a host shell for an evil Locrylian demon. He plans to find a body, overrun the planet and enslave mankind.
Art manages to rescue his daughter and tries to escape. But the Myxolians capture him and force him to go on a suicide mission to close down Lucien's portal.
They drop him off at the edge of a booby-trapped forest with a small team. They are immediately attacked by savage Axalot Hounds. Art learns that these are the smallest creatures that will be coming through the portal. The quaggars they truly fear will be much larger and almost impossible to kill.
Then Art watches helplessly as his team comes under attack by snipers hidden in the forest. And to top it all off, their one chance at victory get sucked away through a portal.
Now, Art is wounded, desperate, and at wit's end.
Can he do whatever it takes to defeat the evil villain, close the portal, and save his daughter before it's too late?
What will happen when everyone realizes that he isn't the savior they had hoped for?
Get Your Kindle Version Here Or Audible Coming Soon
Meet Lucien!
Lucien was once a regular Locrylian. That is until his jealous wife tried to poison him. A friend managed to save his soul even though the poison destroyed his body. Ever since then, he has wandered between worlds looking for a body he can inhabit once again.
He finds Art's DNA-splicing technology and realizes he could use it to create a body for himself. Lucien forces Art into mixing Locrylian genes into a human body. Lucien almost succeeds. The Myxolians stop the transfer before his new body is complete through. Now, he is weak and dying. Lucien only has a few days to open a portal to transport his people from their dying planet before it's too late.
Lucien plans to wipe out the human army, dominate the earth, and enslave mankind. Once they have control, he plans to transport his people to their new home on earth.
But can he succeed when Art and team kill off most of his men? Could Art be the awaited savior of his sworn enemies? Lucien has to make sure that Art won't be able to foil his plans.
Get Your Kindle Version Here Or Audible Coming Soon
Meet Elijah!
Elijah was once a wealthy merchant with many Locrylian slaves. Then the slaves rebelled, killed most of the population, and ravaged the land. Elijah escaped to earth. His sole mission in life is to keep the remaining band of Myxolians safe and avenge his losses.
His people believe the ancient prophecies of a Chosen One who restore their land and lead them home. He believes that Art is the one who will save them and regains hope once again.
He takes Art under his wing and tries to convince him that he could be their savior. Elijah tries to teach him to use the power freely available to one in his position. Art is stubborn though and refuses to believe.
Elijah realizes that they are on a suicide mission. He knows that he may not survive long enough to close the portal. But he persists in trying to pressure Art into realizing who he is and accept his destiny. Elijah chooses to believe that Art will be there to keep things under control once the portal opens. But when the portal opens, he realizes that Art really can't control the wild beasts.
Now, how will they close the portal and stop the attack? Who will restore their land and lead them home? Is this the end of his race?
This is a 15,000 word story which comes out to about 70 pages and 108 minutes of audio.
Get Your Kindle Version Here Or Audible Coming Soon