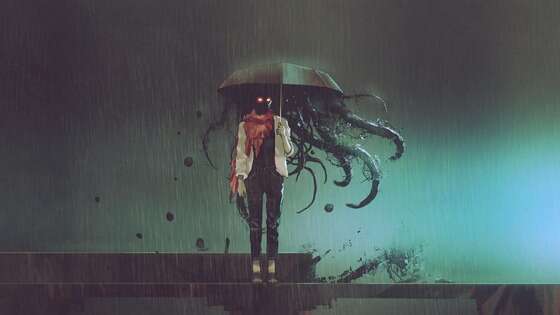 The In Between
Liselotte pranced down the street at her usual crisp gait. The clicking of her high heels echoed hollowly along the red brick walls of the shops that enclosed the narrow cobblestone streets of Kungsburg.
It was late. Everyone had long closed up their shops and gone home to get ready for bed. Liselotte hated this tiny town. She longed to return to the big city with its bustling nightlife. Back home, shops would still be open and everyone would still be out and about.
The petite woman sighed as she pulled the red scarf tighter around her neck to block the cold wind that had started to pick up. Clouds had been rolling in all afternoon. Thick billowy grey fluffs of vaporized water just waiting to cool enough to condense and fall in her direction.
She was ready for it as soon as she felt the first drop splatter against her forehead. Her large, trusty, black umbrella ready to defend her against the spiteful sky.
The umbrella popped open eagerly with a loud pop and a gleeful hiss that sounded like a giggle.
"Don't get any ideas, Fritjof," she scolded.
The woman felt the critter scurry up her back and curl up on her head as close as it could get to the umbrella. Fritjof hated water, and that was one of the reasons she kept him in the umbrella. As long as she opened it when it was raining, it wouldn't run off and cause mischief.
She could feel it breathing deeply, filling its lungs with fresh air. Fritjof's tentacles uncoiled to their full length as it stretched joyfully and with deep satisfaction.
The dark, musky monster hissed angrily as a raindrop struck one of its tentacles and curled its tentacles back in.
Liselotte hadn't missed a beat the entire time. She kept up her brisk pace. It still felt weird to think that she was running around with a Vok'in hovering just over her head, but she was starting to get used to it.
She listened as the critter muttered to itself about the cold, damp weather and tried to convince her to go somewhere warmer and drier.
"No, that doesn't look comfortable or pleasant," she said when it showed her mental image of a burning desert filled with plants that looked like plump purple cactuses.
It hissed in frustration and then sighed in resignation. She didn't stop walking or wait to hear what it said next.
Liselotte's stomach growled and she felt a pang of hunger and thought of her favorite restaurant back home.
Fritjof caught a whiff of her thoughts and perked up.
"No," she retorted immediately. "We're staying right here and going to bed."
But it was too late. The Vok'in had caught enough of her thought to sense a warmer, drier place. It was insistent in reinforcing the thought.
She shook her head and tried to say, "No!" firmly. But it came out weakly as it pressed the image forcefully into her mind.
Liselotte could feel her eyes lighting up at its persistent pressure, and it was all she could do to keep it from taking over.
It was getting smarter. Learning her hot buttons. It understood how to make her want what it wanted. This was why she rarely let the Vok'in out of its umbrella.
It scared her to think about what the creature might make her do. Could it take over her mind completely? She rued the day that she had ever found Fritjof and tried to help it.
"Okay, fine." she conceded. "Let's go to Fingrund, but you have to bring me back tonight as soon as we finish supper."
Fritjof sighed with satisfaction at its little victory and let out that same silly giggle.
Liselotte let out a deep sigh and closed her eyes. She let the image Fritjof feed her mind grow stronger and brighter. A bright glow filled the back of her eyeballs and grew brighter and brighter until it felt like her head was about to explode.
Then the feeling passed and everything grew dark again. When she opened her eyes again, it was still raining and dark.
"Had they even left Kungsburg?"
Fritjof hissed and growled as the rain picked up in intensity.
The young woman still felt too weak to look around. It took her a few seconds to regain her strength. Something had happened. She could feel it. But she wasn't exactly sure what yet. Liselotte turned around slowly in the darkness.
"Where are we, Fritjof?"
The Vok'in hovering just above her head chittered incessantly about something, but it wasn't clear enough for her to understand.
"Where are we, Fritjof?" she asked again, only this time out loud.
A dark tentacle shot forward and clamped down over her mouth. Fritjof continued hissing and chittering quietly to itself. It turned slowly from side to side and began to let go of her mouth.
An image came to mind. But it was dark and blurry. The only thing she could seem to make out was the words "the in-between".
Liselotte could sense the creature's fear growing into a panicked frenzy.
"Get us out of here," Liselotte thought at the Vok'in.
"You are still too weak," it mentally shot back. "Remain quiet."
Time seemed to stretch out forever as they stood there in the rain on that dark corner.
"Ready?" it finally asked, its tentacles moving close to cover her mouth as her lips parted.
She got the hint and simply nodded. She managed the restaurant she wanted to eat at back home. But the Vok'in knocked the image out of her head.
Instead, it pulled up an image of the street corner in Kungsbur they had come from. Liselotte ran with it and let the image fill her thoughts and senses.
The glow surrounded her eyes again. This time the pain in her brain felt even more excruciating. But this time when she opened her eyes, they were right back where they had started.
Liselotte sighed with relief and fell to her knees in the puddle that surrounded them. Her arms were so weak that she dropped the umbrella.
Fritjof immediately pulled it back up over their heads with its tentacles. It waited in silence until she regained her strength and stood up.
"What happened?" she finally asked out loud.
"Too far to jump," it responded with the image of an athlete trying to jump across a cliff and falling short.
They had never tried to go very far before. Fritjof only made short hops around Kungsburg.
"That's a cheesy way to get out of taking a girl out to eat," she said trying to make light of the situation and calm down the still panicky Vok'in.
"What was that anyway," she asked after a few seconds of silence. "Where did we go? What happened?"
The rain had stopped. Liselotte took the umbrella from Fritjof and shook off the raindrops.
It began drawing in its tentacles and slid down her arm toward the upside-down umbrella. It dropped inside, still hissing angrily. But Liselotte could still sense its fear.
She closed up the umbrella and continued walking down the cold, wet cobblestone street toward her home away from home pondering what strange places she would be able to visit if she learned to harness the Vok'in's powers.