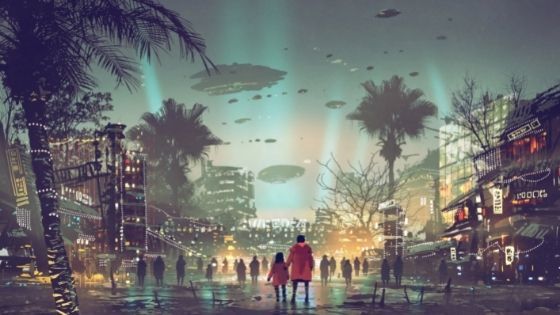 I'm Not Your Papa
Roscoe looked around in shock. He blinked his eyes to make sure this was real. It seemed to be. Nothing changed in the scenery, even after pinching himself several times.
He knew there were places like this. He had heard of them. He had even wanted to visit them. But now that Roscoe was actually here, he wasn't so sure this was a good idea.
As far as he knew, things didn't happen quite like this. Normally, travelers were given a choice. They opted to visit of their own free choosing. Not just thrown here without advance warning.
It looked like a mashup between Chinatown and New Dehli. Roscoe knew what they were like because he had actually been to both of those places more than once.
He had lived in a slew of countries and learned over a dozen different languages before his eighteenth birthday.
His father had been an American ex-pat who moved from country to almost every six months on business. He had met Roscoe's mother while in Iceland. Two countries later, they were in Australia when their first child was born.
With three citizenships, the polyglot was a prime candidate for anyone needing a spy.
Roscoe felt no loyalty to any single country or organization. He would spy on anyone or anything for the highest bidder. Sometimes spying for both sides at the same time. It didn't matter to him as long as he got paid, and didn't get caught in the crossfire.
The longest he had ever stayed in one place was eight months. That was only because of a woman. It was the first time he had fallen in love. He tried to convince her to go with him. But her loyalty to her family was stronger than love at first sight.
He had almost been willing to settle down for her. But she took a bullet for him. The woman jumped in front of a motorcyclist with a gun. Roscoe left the country and took on a new mission.
He beat himself up every day for a few weeks, thinking he had been the target. Thinking it was his fault that she had died. Wishing he had done something differently that day.
Then, on the last day of his mission, someone spilled the beans. They let it slip, that his woman had been the target the whole time. His current employer didn't want him settling down.
After that, Roscoe went on a killing spree. Doing all of their enemies a favor. For free. No charge. He had never killed before. Had never had to because he was so good at getting the information he needed covertly.
But after that, he took on any job. Even those that didn't require spying or collecting information. Roscoe actually preferred being a hitman to a spy. It was easier and mentally less taxing.
Roscoe had no idea how he had ended up here in this surreal place though. He had never seen anything like it before. It looked like a normal city with normal people. But there were strange, round ships in the sky that looked like UFOs.
Nor did he understand any of the letters and symbols written on the signs. Even though some of them looked familiar, it was like no language he had ever seen before.
"Papa. What's wrong?" he heard a child ask.
He was lost in thought and didn't look down until he felt someone tugging on his coat. Roscoe jerked back a step. He hadn't heard anyone come up.
A young girl stood there looking up at him with a bright smile as if everything here were completely normal. She wore a matching coat that was the same color as his.
"Who are you? Where am I?" Roscoe asked.
The child cocked her head to the side and looked at him quizzically.
"Is everything ok, Papa?" she asked still looking at him.
There was no one else nearby. Roscoe shook his head and took another step back. Putting distance between them.
"No, everything is not okay. And I'm not your Papa. I'm not anybody's, Papa. How did I get here?" he shouted angrily.
A small group of people walking by scowled at him menacingly. They placed their fingers over their lips as if shushing him and raised their eyebrows up and to the side toward the floating ships overhead.
Roscoe didn't look up at them directly, but from his peripheral vision noticed one of the larger ships moving in his direction.
He smiled and tipped his head in acknowledgment to the person going by. Then Roscoe looked back at the child and smiled.
"Sorry, honey. Papa got distracted for a minute. I was thinking about something else."
The child slipped her hand into his but, didn't wipe the suspicious look off her face. She kept her eye on him as they walked down the street.
Roscoe had no idea where they were going, but assumed she was taking him to wherever his new home was.
He scanned everything around him, looking for clues to figure out what going on in this place till he could get out of here. He smiled and nodded to everyone who went by. Most smiled and nodded back.
But it was obvious to his trained, watchful eye who belonged here and who, like him, did not.
Roscoe didn't really care though. This was just one more place to live. New experiences to enjoy. And like everything else in life, just a game to win. He walked along, confident that eventually, he'd figure out what was going on.