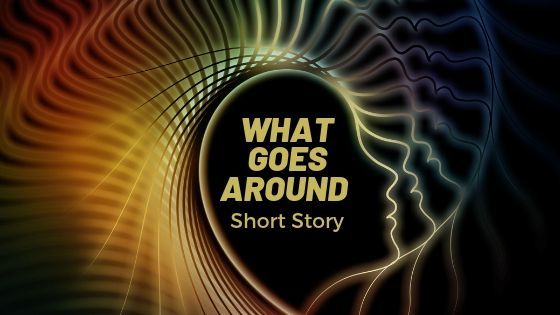 What Goes Around [Audio Short Story]
I've had this story idea in my head for a very long time, but never really figured out how to write it because of its premise is a bit unique. But I finally decided to tackle it today for my Patreon students and readers till I found my way through it. I think it works, Read it and tell me what you think.
Just to give you some background here, this is one of the stories set in the Edge of the Universe Series about a programmer called Jenny who has been working on a top-secret army project to create clones. After a series of problems and losing the love of her life in the process, Jenny discovers a way to transfer people's minds from one body to another. General Bart hijacks her project though and this story is where we end up.
What Goes Around
The smoke still wafted from the barrel of the gun in his hands. The sound of the shot hadn't yet reached her ears. Maybe it was the shock of getting shot that blocked out the sound.
Jenny looked down at the small hole in her shirt. Quickly turning red as the life-giving fluid seeped from her body. She reached down and touched it lightly. Still not feeling anything. Surreal. Almost as if she were in a dream.
She looked back up into the eyes of General Bart, now using President Kent's body. She cocked her head to the side. His lips were moving, but Jenny couldn't hear the words coming out of his mouth.
It sounded like he was saying, "What goes around, comes around."
Jenny had tried to shoot him earlier. Though she had missed. She looked back down at the wound in her side. Well, in General Bart's side since she was using his body.
The pain exploded in her side as she pressed her finger into the bullet hole to staunch the bleeding. The shock was wearing off and her senses were returning.
Jenny screamed in anger and frustration at the sudden turn of events. This hadn't gone down at all like she had expected after losing the element of surprise.
Her voice came out all wrong. Thick and deep. Then she remembered that it wasn't her voice. Jenny was no longer in her own body. Her body lay back in the warehouse lab.
General Bart had used her project to hijack the president's body and then locked her up till he needed her again. She had transferred herself into General Bart's body to escape and hunt the man down.
And now, she had been shot. Jenny would die. General Bart would get to rule the country in the president's body that he had hijacked. And no one would be the wiser. And it would all be her fault.
Jenny looked up into the barrel of the gun and knew she had to do something fast. She analyzed the railing over the balcony just behind the General. Three stories up.
It would be painful. But as long as she didn't die in the fall she might be able to pull this off. It was her only choice. If she tried to transfer out now, he would simply call one of the soldiers back at the warehouse to locate her original body and put her down.
Jenny raised her hand in front of the gun as if trying to say something and slowly stood up. The general took a step back and relaxed his stance as he waited.
He grinned that same stupid, arrogant grin that she hated — gloating that he had had the upper hand the entire time.
But as soon as she had risen to her feet, Jenny threw herself at him. The General's original body that she was now in was almost twice the size of the president's body that Bart now possessed.
Jenny hit him hard, and it wasn't even much of a struggle to push him over the railing.
They both fell through the air. A quick, short free fall three stories down.
Jenny relaxed her body and tried to land upright to take the fall on her legs with a roll to the side to protect her head like she had learned to do in her parkour training classes.
But it didn't do much good. Jenny's legs snapped under her before she could get the roll in. Her body basically just flopped to the side. But she was alive, and that was all that mattered.
General Bart lay there unconscious. Jenny just needed a way to contact Al for him to pull her out of the General's broken body. She half-rolled and half-dragged herself over to paw through his pockets for his cell.
It wasn't in his pants pockets. Her heart froze for an instant. But she continued searching and felt it in the inside pocket of his coat. She sighed in relief and tugged it out. But when she looked at it, the screen was blank.
Jenny groaned as she tried to turn it back on. It took a few seconds to respond, but the screen finally lit up. She sighed in relief.
The General came to and lay there stunned for a brief second before he let out a spew of curses between the screams of pain and anger. Jenny dialed the number and hit the call button as she rolled away from him.
"Yeah, it's me. Get me out of here. And put the General back where he belongs."
General Bart froze for an instant as he realized what she was doing.
"No, leave the president where he is. His body is too far gone. We'll have to make him a clone."
"You can't do that too me," the General screamed at her. "You can't put me back in that body. My legs are broken. I've been shot."
Jenny grinned painfully, "You should have thought of that before shooting me. Well, I mean yourself. Or whoever this body belongs to. This is so confusing."
She closed her eyes and waited for Al to complete the transfer. Jenny grinned at the thought of General Bart waking back up in his own body. The one she had been using.
Jenny started to laugh, but it hurt too much.
"What's so funny," he growled.
"Karma, baby. You reap what you sow. Literally, because you shot yourself. How's that for a taste of your own medicine."
She felt a strange numbness wash over her. Jenny wasn't sure if this was from the transfer back to her original self or the sensation of death sweeping over the body she was now in.
"What goes, comes around," she murmured as she drifted off into the darkness that washed over her.
Thank you for reading this short story. I really appreciate it because they mean a lot to me. They are part of a series of books that I've been working on called Edge of the Universe. The main story revolves around a naive Brazilian scientist.
Art develops technology that can splice DNA among living organisms. He hopes to solve major problems like world hunger and curing all diseases. But evil corporations want to get their hands on his project. The first book in the series is called 'Rise'. You can download and read book 1 on Amazon for FREE >>
Follow Dave Bailey on…
Support Dave Bailey on Patreon
Watch Dave Bailey on Youtube
Listen to Dave Bailey on SoundCloud
Read Dave Bailey's books on Amazon
Read Dave Bailey on Wattpad
Slides for Teacher in Google Drive
P.S. I write these stories for my English students, so if you are learning English as a Second language and have questions about any vocabulary words or their pronunciations, feel free to ask in the comments below.