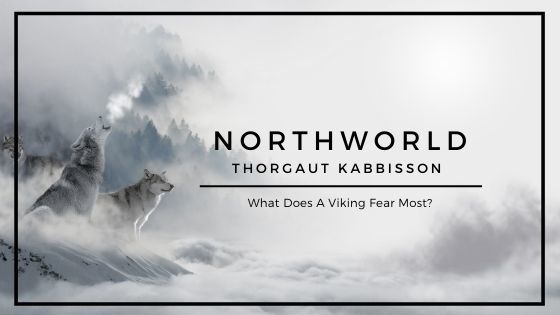 [NorthWorld] Thorgaut Kabbisson: Chapter 6 – Slice!
Thorgaut watched the creature moving slowly and methodically across the camp. It glanced up in his direction and he held his breath. One eye was missing from its socket, and the other was covered with hair. No wonder the ugly thing hadn't been able to see him very well earlier.
He let it walk around the camp for a bit and then watched as it started to shuffle off in the other direction. He threw a stick out into the middle of the camp near the fire. The noise attracted the Shuffler's attention.
It walked back towards the fire with its back to Thorgaut. It was time to see what this thing was made of. He pulled back an arrow and let loose. The arrow found its mark and dug deep into its back right about where its heart should have been.
The Shuffler let out a loud high-pitched scream that sounded almost like a squeal. It clawed around madly, trying to grab the arrow coming out its back. But it didn't fall down. It kept moving around in circles as it tried to get a grip on the arrow.
It managed to reach around far enough to get its hand on the arrow. It tugged at the arrow but screamed at the pain. It was facing him now, and he fired off another arrow directly into its throat. The Shuffler tried to scream, but this time only a gurgling rasp came out.
Thorgaut waited, but it didn't fall. So, he fired another arrow directly into his forehead just above the bridge of the nose. This time the creature fell backward onto the ground. It tried to get up again, but was unable to and fell back over into the dirt. It continued to move it's hands and feet around though as if it were trying to get up.
Thorgaut climbed down the tree by grabbing on to the branch and swinging his legs down over the edge. From there it was just a short drop to the forest floor.
He walked over to the undead shuffler and circled it slowly. The stench coming up off this thing was awful. Thorgaut had to cover his face to keep from puking.
It realized he was there and reached out in his direction. Thorgaut stepped back and was careful not to let it touch him. The Shuffler moaned loudly and started chomping its teeth as if it were already biting him.
The creature tried to roll over, but the arrows in its throat and forehead prevented it from turning over. It started to vomit and Thorgaut backed up even more.
The stories he heard as a child said that the vomit was how they killed their victims. It poisoned them and paralyzed all who came in contact with it.
When it had finished puking and doing its thing, Thorgaut raised his sword and sliced off its head. The shuffler lay there twitching as he drove his sword into the soft dirt to clean the blade of blood.
Thorgaut grabbed the arrow shot into its forehead and pulled it over to the fire. He tossed the head into the flames. The blood that dripped from its neck and head burst into a fiery mass as soon as it hit the flames. He had to step back and let it settle down a bit before moving back in to finish up. He pushed the ends of the logs together to refuel the flames.
Then he wiped off his hands on his pants and smiled proudly at killing his first Broken Shuffler. He hoped that it would find peace and make its way into the afterlife. Technically, it had died in battle, but he didn't know if the Valkyries would allow it into Odin's hall.
Thorgaut turned around and froze at what he saw. Four more of the same foul creatures all coming his way.
Thorgaut pulled his sword out of the ground and gathered his stuff quickly. The shufflers moved slowly. Two of them paused and bent over to vomit. That was what worried him. He knew he could kill them easily because they were so slow. The only thing he had to be careful of was to not get any vomit or blood on his body.
He knew he could outrun them and hide in the safety of the darkness. He considered it for a moment. They wouldn't be able to see him. And he could just wait for the darkness to pass and the sun to rise in the morning.
He wanted to turn and run into the woods. He could take them on later that day after it was light, but his Viking training and upbringing was ingrained too deeply. He had been taught to always stand his ground against his enemy.
It didn't matter that these were undead beings, nor that he had nothing to defend. It was his duty to fearlessly fight anything and anyone who opposed him.
He whipped out an arrow and notched it in the string. Thorgaut pulled back the taut with all his strength to get as much power out of it as he could. His fingers pulling back on the string touched the base of his ear and trembled from the force of the bow waiting for release.
Thorgaut leveled it in the direction of the closest shuffler and let go of the arrow. It hit the one-eyed shuffler and drove deep into the creatures cheekbone below the right eye. The blow stopped its forward trajectory. It stopped and stood still turning its face back toward the Viking. It shrieked in fury and then started walking again.
By this time, Thorgaut had already notched and released a second arrow. He had aimed for the second shuffler's heart, but the zigzagging walk caused it to hit its shoulder. The first one was walking faster and pretty close. So, Thorgaut shot it again.
The arrow found its mark directly in it's one remaining eye. It screamed again and threw it's head down between its legs as it tugged and pulled at the arrow.
One of the other shufflers had stopped to help pull the arrow that was still stuck in the shoulder of the second creature Thorgaut had shot. That left only one shuffler that was an immediate threat to Thorgaut at the moment. So, he took his time aiming right between its eyes like he had done with the first shuffler he had killed.
This time, the arrow found its mark and sank deep into the creatures foul head. Thorgaut expected it would fall over, but it didn't. It still kept coming. It was too close to get off another shot, so he pulled out his sword. The shuffler had raised its hands at an awkward angle. It looked like it wanted to shake his hand, but had a sore shoulder.
When it got close enough, Thorgaut dodged out of its reach and sliced off its right arm. That didn't seem to phase it because it just kept right on coming at him. Thorgaut spun around to the other side and sliced off its other arm. It still kept walking at him even though it didn't have any arms.
It paused and gagged in preparation to vomit. Thorgaut spun around to the side and raised his sword high into the air. He brought it down with all his might across the back of the shuffler's neck just as it started to puke. Its head rolled off into the darkness, and its body fell into a mess of blood and vomit.
Thorgaut didn't pause to admire his handiwork. He turned towards the original one-eyed shuffler that was now blind. It was still stumbling around close to the fire. Thorgaut walked around behind it and kicked it into the fire. It stumbled and tried to catch itself. Unable to keep itself upright, it fell into the fire and rolled out on the other side. Its body had burst into flame and kept right on burning even after it had rolled out of the fire.
He heard something behind him and spun around.