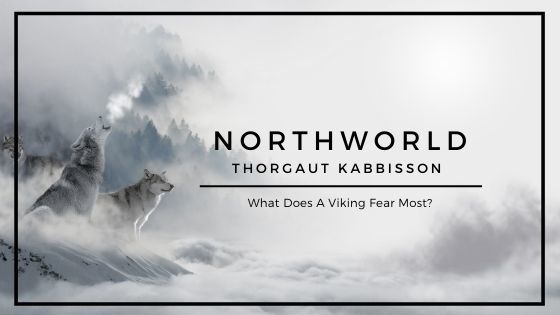 [NorthWorld] Thorgaut Kabbisson: Chapter 25 – Alone!
Thorgaut came to and opened his eyes slowly to look around. Sunlight blazed into his eyeballs blinding him momentarily. He squeezed them tightly shut and rolled over face down while shielding his eyes with his arms.
His head throbbed. He tried to remember where he was or what was going on. The last thing he recalled was attempting to kiss Halldora.
Halldora! Beautiful Halldora. The love of his life. He was going to marry her and make her his queen. Wait, who was Halldora again?
Suddenly, he remembered who she was and his memories of the last few days came rushing back.
Halldora! That crazy nutjob who lived alone in the woods with her walking dead people. What is the world was he thinking when trying to kiss her. The last thing he needed right now was getting involved with these crazy people up here in these woods.
He needed to get home and leave this place behind. What was it with all these witches and wolves and walkers? He needed to get out of here, and it was best not to come back.
Thorgaut rolled back over and sat up. He kept his arm over his eyes to shield them from the sun and opened them a crack to look around. He was lying in a small open area surrounded by the woods on all sides.
There was a house a stone's throw away from him. Arnulfr and Runa's house he figured. It was smaller than Halldora's place, and a lot simpler looking.
He noticed a small tree nearby full of fruit. His stomach growled hungrily, so he stood up and walked over to it. It was full of dark, juicy plums. Thorgaut smacked his lips. He loved plums. They were his favorite fruit growing up.
Well, besides bananas that he had eaten once or twice. They were pretty rare though, so they didn't count. So, that made plums his favorite fruit that he could get in abundance.
Thorgaut grabbed several of the largest off the tree. They were plump and juicy. The skins were practically splitting open to release their tantalizing sweetness. He bit into the first one, and the juice squirted up into his face. It ran down his chin and dripped onto his shirt.
He moaned with delight and gobbled down several more. The sun was getting hotter by the moment and irritating his skin. He moved around to the side of the tree that had shade and continued stuffing his face with plums.
After satisfying his hunger, Thorgaut hobbled up to the house. He walked slowly because his leg was still swollen and sore to the touch where the wolf had bitten him.
The home was simple but charming. It was a solid, wooden cabin built on a strong stone foundation. The dark gray wood of the walls contrasted pleasantly with the green turf growing on the roof. Thorgaut could imagine living in a place like this.
He saw several cows grazing beyond the house. And out beyond them a calm, placid lake. He wanted to go straight there to bathe and rinse off. He could tell by his own smell that it had been several days since he had had a bath. Obviously, Arnulfr wouldn't have tried to drag him off for a wash in his previous condition.
Thorgaut entered the house and looked around. There was a table in the kitchen that looked familiar. But Thorgaut wasn't sure this was Arnulfr's house. Nothing looked out of place. At least it didn't seem like a house that had been under attack by NightWalkers.
He walked over to the iron stove and poked around in the pans. He found some leftover food that still looked edible. He opened up the cabinets and pulled out some bread and cakes. He stoked the fire to heat up the food. There was plenty here for a couple of weeks if he needed to stay and recuperate longer.
Thorgaut wanted to get a move on it. He needed to find his friends. Arnulfr said it wasn't far, but he had no idea in which direction. And even if he did know which direction to go, Halldora's cloaking spells might get him lost again.
Once the food was ready, he served himself a huge plate. He tore into it and scarfed it down quickly along with almost a whole loaf of bread. It tasted so good that he ate until his stomach hurt. He finished licking the plate clean and pushed it back to the center of the table.
Thorgaut stood up and eyed the last piece of bread. He felt too full to eat it but hated to see good food go to waste. So, he grabbed it to munch on it while he poked around the rest of the house.
He walked into each of the rooms. In the second one, he found the bed he had been on the night before. So, yes, this was Arnulfr's house, but where had everyone gone.
Runa and her brother had must have been taken by their mother. "But where was Arnulfr," Thorgaut wondered? There was no sign of life anywhere around the house.
Thorgaut could see the room he had been in now that there was light to see. The mattress was half burned and the ceiling blackened from the smoke and flames. It was a good thing those black-eyed creatures had put out the fire. Otherwise, the whole house would have burned down.
Thorgaut continued walking around the house poking into things. He didn't imagine that Arnulfr would ever be back to complain about it. He found some of Arnulfr's clothes that looked like it would fit him. He needed a bath before changing into them, so he laid them on a chair. He headed for the door to go down to the lake.
As he got to the door though, he heard the sound of people talking. He crept to the window to listen in on what they were saying. They were both tall and had long, blond hair that came down to the middle of their backs. They were looking around while carrying on a heated discussion.
Thorgaut could hear them clearly, although he had no idea what they were saying. They spoke in a strange language he couldn't understand.
The men wore matching green shirts and brown pants. Thorgaut noticed that they were armed to the teeth with bows, quivers, knives, swords, spears, and shields. They didn't look like the kind of people he wanted to mess with, nor that he wished to have messing around with him.
He debated whether to go out and greet them. Maybe they could tell him which way to go, but then he realized they might not even understand him. And who knew what they really wanted.
One of the men pulled a small, black object out of his pocket and held it in front of him. He seemed happy and started babbling away excitedly. His friend came running back over to watch it with him. They turned around slowly and then pointed in his direction.
The other guy pulled out his sword, and they both started walking towards the house. Thorgaut ducked away from the window. He crawled towards the bedroom looking for a place to hide. He tried to slide under a bed, but it was too low. So, he jumped in a closet that looked like it had belonged to Runa and pulled the door shut behind him.