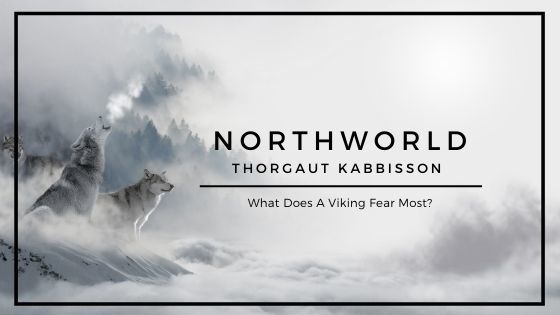 [NorthWorld] Thorgaut Kabbisson: Chapter 15 – Black!
Thorgaut looked at the magnificent, black creature before him. Then he looked at the arrows in his hand. Then to the axes on the ground. There wasn't much he could do now. All he had left were these arrows. He didn't imagine they would do much good without the bow.
The only thing he could do would be to drive the point of the arrow into one of the creature's eyes when it jumped at him. He would only get one shot, and it would be a long shot at that. In his tired and weakened condition, he would have to get lucky. And after his run of luck these past few days, he didn't feel very confident.
But even if he did get lucky and manage to nail it in the eye with one of the arrows, that wasn't guaranteed to stop it. More than likely, it would infuriate the creature even more.
Thorgaut sighed. Well, this was what he had, and he was going to make use of it. This wasn't how he had planned to die. But if he did die, he would die with honor.
He didn't know if dying while fighting a wolf would be enough to get him into Valhalla, but he steeled himself anyway. He wouldn't make a sound even if the wolf did sink its teeth into his throat. He would die like a genuine, brave Viking and let the Valkyries judge his worthiness in the afterlife.
"Come on you lazy wolf," he screamed at the black creature before him. "Are you afraid of a man who is tied up in a snare?"
As he said that, another head popped out from behind the bush. This one was snow white. A white wolf as giant as the black one. Then another one. This time gray. Then a yellowish-red wolf.
Thorgaut's heart sank. This was the end. He would never be king of Jorundarfell, much less king of the North. He steeled himself to accept his fate if his time had finally come.
If so, the words his mother whispered in his ear would never come true. The words of the old crone would all be a lie.
Then he remembered Halldora! Maybe Halldora would find him and bring him back as a shuffler. He could become the king of the shufflers.
The thought excited him. He could rule over a vast, limitless army. At the same time, it also terrified him. If he couldn't die, he wouldn't make it to Valhalla. He would never see his friends and family again. They would all enjoy the afterlife, and he would be eternally stuck here with the rest of the undead.
The more he thought about it, the less he liked the idea. Too many things could go wrong, and who knew would happen to his soul in the process. Perhaps it was better to die now as a brave soldier and just be done with it.
He didn't have much time to think about it though. The wolves drew in closer and tightened the circle around him. And his instincts kicked in as he tried to figure out a way to get out of this mess he was in now.
Thorgaut had only two arrows. And there were at least four wolves that he could see. At most he could stab one or two. There wouldn't be much he could do after that though. His bare hands wouldn't do much damage to those massive creatures. He needed a weapon.
The wolves circled in warily. Thorgaut looked pretty harmless hanging upside down. But they had seen their fallen companion and knew it was Thorgaut's doing. They were smart and knew better than to rush in.
The black wolf was the boldest of the creatures. It pressed in closer and continued to circle him. It sniffed the air cautiously as it moved around him.
Thorgaut stayed still so as not to make any sudden movements that would startle the creature. The thought flickered through his mind that they would sniff him and move on. But then he realized how silly that was. These creatures came in with deadly intent. He remained still and waited for the right moment to strike.
These were interesting creatures. They were different somehow from other wolves Thorgaut had seen growing up. They displayed an intelligence that seemed almost human. The way they interacted with each other was different from other packs he had seen. The snarls and growls of these wolves seemed more expressive than usual.
He recalled the stories of the talking animals of the North that his mother had told him as a child. But he always thought those were fables. Still, it couldn't hurt to try talking to it.
His father always said that diplomacy was the best option for a king to keep peace. Thorgaut didn't agree with him though.
Sometimes he thought the old man was getting soft in old age. His father seemed to have lost the fire of his youth. He didn't want to fight anymore and didn't stand up for the clan.
It was strange. The Viking culture and religion dictated they must die in battle to enter Valhalla. Now, the old king wanted to take things easy and enjoy the years he had left.
Thorgaut had lost respect for him in the last few battles they had fought. His father had held back and stayed behind the men who were fighting. At first, Thorgaut had thought there was something wrong with him or that he was sick. He had lingered back to watch over him and protect him if he keeled over.
But after two or three battles like that, Thorgaut had given up in exasperation. He left his father in the back and returned to the battle lines. Thorgaut had jumped right back into the fray at the front.
Thorgaut believed that there was a moment for diplomacy and there was a time for fighting. A warrior needed to choose his battles wisely. He also realized that this was one battle that he wasn't going to win by brute force.
Thorgaut racked his brains trying to think of something intelligent to say. It couldn't hurt to try in case the wolf could understand him. He had no idea what they wanted or what would keep them from killing him as they seemed intent on doing.
The black wolf had moved in just outside his reach. He gave up trying to think of something intelligent and decided to start talking.
"Hello!" Thorgaut tried. "How are you today?"
"That sounded like a stupid thing to say given the situation," he thought. Thorgaut wanted to slap himself.
His father had a saying. He tried to remember what it was that the great Jarl Kabbi Skurfasson had said about diplomacy. He couldn't remember the exact words his father used. But it went something along the lines of, "Flattery makes friends and truth makes enemies."
Then there was that other saying his father always repeated. "Everyone loves to be flattered, so lay it on thick with your trowel."
Thorgaut snickered at the thought of flattering this wolf. "My, what large teeth you have, Mr. Wolf." As if somehow that would convince a deadly wolf to refrain from ripping his throat out. That would be too easy. Just say a few kind words to persuade them to move on. No, he needed something better than that. And he needed a backup plan in case that didn't work.
He recalled what his mother had said to his father in their last argument right before he left. She was fed up with his silly ideas about diplomacy. Jarl Kabbi had been negotiating a treaty with the Krǫptugrvegr tribes to the East.
His mother, the wise Jorwen Fjelddottir, despised their kind. She warned his father that they weren't trustworthy. She told him that they would end up disregarding the treaty and cause trouble for him. And even if they didn't, she found their demands excessive and wanted to send them packing.
That started old Kabbi off on a rant about both sides having to make concessions. He tried to convince her to give in a bit so that everyone came out on the receiving end. He said that they needed to be open for the negotiations to be successful. He was under the delusion that he could tame the wild ones who lived in the mountains.
After spending a long time trying to convince her to live in harmony with their neighbors. When that didn't work, he attempted to strong-arm her into being more diplomatic.
But she had refused outright and started to leave. Kabbi was livid with anger and threw the silver cup in his hand. It bounced off the wall to her side. Thorgaut didn't think he was really trying to hit her. He was just throwing one of his silly temper tantrums when things didn't go his way.
Jorwun turned around a laughed. "That was very diplomatic," she said. She clapped her hands slowly for good measure.
"I think you're finally starting to understand what diplomacy is it about." she continued. "It's the art of saying 'Nice doggie!' till you can find a rock to throw at it. You know their reputation as well as I do. So, if you continue dealing with them, make sure to find a big rock."
His mother stomped out and refused to take part in the rest of negotiations. His father hadn't listened to her and gone ahead with the treaty anyway.
Thorgaut knew that treaty would come back to haunt them; even if it didn't happen now during his father's reign. But eventually, Thorgaut would have to deal with the Kroptugvegr tribes himself. They had already started making trouble again.
He would have to worry about that later though, if he made it out of here alive that was. For now, he needed a 'rock' to deal with these wolves.
He didn't have a rock to deal with these wolves. So, he would have to use his diplomacy skill until he could get a hold of one.