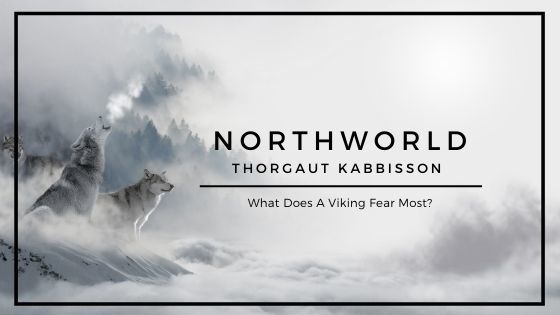 [NorthWorld] Thorgaut Kabbisson: Chapter 4 – Attack!
Thorgaut gripped his sword tighter. He spread his legs wider and crouched lower into a fighting stance. He cocked his head to the side and listened intently into the darkness.
Listening for the sound of footsteps. Listening for the sound of anything strange that might be going on out there in the darkness.
"Are you still there?" he yelled out to the woman. "Come over here. I've got…"
Something large and dark came barreling out of the woods straight towards him. He could sense it before he heard it or saw it. It rammed right into him and knocked him over.
Thorgaut fell on the ground several feet away. The blow dazed him for a minute. The dark, bulky creature shuffled around the area where he had been standing. It was making strange sniffing sounds like it was trying to catch a whiff of his scent in the dark.
From his position where he lay, Thorgaut could see the massive dark form outlined against the sky. He couldn't tell what that thing was, but it was no woman. He was sure of that. There was no way a small woman could have knocked him over like that. Thorgaut figured that whatever this thing was, it must be at least as big as he was, if not bigger.
Thorgaut's dark clothes must have blended well into the ground in the dark. He was grateful for that. He raised his head and saw a glimmer of light in the darkness. His sword. He stretched out his hand. It was out of reach.
Thorgaut rolled to the side and pulled himself up. A twig cracked under the movement, and the creature stopped snuffling. It turned in his direction and took a step forward.
He stayed still for a minute, and the creature continued snuffling around in the darkness. Closer this time than before.
Thorgaut couldn't see the sword any longer from his current position. He knew it was in front of him though and kept his hand still so as not to lose his place.
He felt about in the dirt for some small pebbles and twigs. His fingers found some in the darkness and he picked up a small handful. Thorgaut tossed one as far as he could into the darkness beyond the creature.
The pebble bounced off a tree trunk and made a loud thunking noise. The foul creature immediately stopped sniffing. Thorgaut caught whiff of the creature, and it really did stink. The stench emanating from it was horrible. He almost gagged and covered his face to keep from making any noise.
The foul-smelling creature whirled in the direction of the pebble's sound and crouched down a bit as it listened for the sound. Thorgaut threw another pebble in the same direction. Only harder so it would go farther. He wanted the creature to think that he was moving in that direction.
The ruse worked, and the creature began walking back into the darkness of the forest the way it had come. Thorgaut stretched out his hand quietly in the direction of his sword. His fingers touched the blade, and he was able to pick it up without making any noise.
Thorgaut wished he had brought his bow and arrow with him, but he had left back by the fire. He rose from the ground with the sword grasped tightly in his hands. Thorgaut waited for a minute.
He couldn't hear the creature moving around in the underbrush which was strange. He wondered how something that size could move around in the dark without making any noise. Especially since it hadn't even seen him lying on the ground close by.
Thorgaut shook his head. That crazy woman screaming must have been a ruse to locate him. But who would be trying to get him? And why did they want him?
A dark cloud rolled out from under the moon which shined a little more light for Thorgaut to see. He took a slow, careful step forward while trying not to step on anything that would make noise. But that would be almost impossible till he got back onto the path.
So, he knelt down and felt around with his hands to remove any dry leaves or twigs from in front of him. When the area in front of him was free of debris, he crawled forward on his hands and knees.
Thorgaut felt silly for sneaking around in the dark. He was a Viking warrior by nature. He had never flinched when facing his enemies. Even when staring down the blade of their sword.
He had never been afraid to fight. He did not fear death. He wanted to die in battle so the Valkyries would take him to Odin's lodge. He wanted to feast with the mighty warriors of old.
But this felt different. He felt like a thief sneaking around in the dark stealing someone's chickens in the night. This wasn't how he wanted to die here because this wasn't a battle. If he died here, he doubted any Valkyries would come to take him to be with Odin.
This was ridiculous. He couldn't even see his enemy to challenge him to a fight. He didn't want to be murdered in the middle of a dark forest all alone at night. There would be no one around to give him a proper funeral burial.
So, he continued clearing the area in front of him quietly and crawling forward little by little. Thorgaut found his way back onto the path again. He breathed a sigh of relief and stood still in the center of the trail to catch his breath.
Thorgaut walked back up the trail ever so carefully step-by-step. Putting one foot tentatively in front of the other. Feeling his way along for anything that might make noise.
It took him awhile to get far enough back up the trail to see the fire. The flames had died down quite a bit in the short time since he had left camp.
He felt like it had been a lifetime since he had left the camp, but then everything had seemed so strange that day. He saw the fire and felt encouraged.
Thorgaut breathed easier at seeing he was back in his camp and hadn't gotten lost again. Once he got back up into the light, he would at least be able to see what that thing was if it tried to attack him again.
He picked up his pace and started walking normally again. Then, halfway up the path, Thorgaut stepped on a small twig that cracked loudly under his feet.
Want More Stories?
Hey! This is the most recent chapter that's available here on the site. I have already written several more chapters that are available for my
'Friends & Fans' on Patreon
. You can join us there and get some extra perks like voting, behind the scene images, and early releases before the general public.