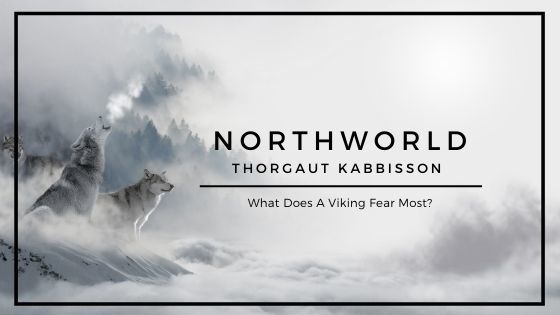 [NorthWorld] Thorgaut Kabbisson: Chapter 2 – NightFall!
The first wolf came in low. Thorgaut caught it with a backhanded blow from his bow just behind the ear. The wolf reeled back and fell over. Thorgaut hoped it wasn't dead, but didn't have time to check it now.
The last wolf took a flying leap into the air, reaching for his throat with its open jaws. Thorgaut grabbed it by the neck with both hands. These were normal sized wolves that would have been a threat to any average-sized man. But to Thorgaut's massive hands and bodies, they seemed like normal-sized playthings.
He squeezed hard enough to choke the wolf's breathing until it stopped moving. Then he laid it on the ground.
Thorgaut cut the deer up so it would be easier to carry. He worked quickly to leave the scene before either of the creatures came to. Thorgaut left the head and intestines for the wolves. He felt bad for them, and under normal circumstances would have left the deer for them. But he needed this food for his family and the people of his village. Thorgaut sighed at the memory.
He had been a hunter and killed all his life. He had fought battles and killed other men. But those wolves that he had killed that day haunted his dreams for a long time afterward.
He dreamed of them often. Generally, the leader of the pack would bring him messages and warnings. But in the end, it always ended the same way. Thorgaut would apologize to the wolves and stand there with his neck bared. And then he would awake when they attacked.
The wind had picked up and the chill reminded Thorgaut that night would soon be falling fast. He looked back at the sun. It was setting quickly and the shadows were growing longer.
Thorgaut quickened his pace. He wasn't afraid, but the eerieness of the place had started to get on his nerves. He should have come across the camp by now and found his friends.
They had left their ships three days back and explored inland towards the mountains. They had set up camp last evening at the edge of the woods.
It was a nice spot. The woods on one side with plenty of game. A nice view of the mountains spread out before them. Thorgaut had laid awake most of the night under the light of the moon and stars dreaming of the future.
He had left the camp earlier that morning to hunt game and explore the area. Thorgaut had slipped away before anyone could follow him. He wanted to be alone with his thoughts.
He had walked West and deeper into the woods. He had seen a lot of game but didn't try killing anything right away. There would be plenty of time for that later. Otherwise, he'd have to turn around and lug it back to camp.
Thorgaut didn't plan on being gone that long, but the scenery was stunning in every way. The forest. The hills. The animals. Everything amazed him.
Thorgaut pressed on deeper and farther. He wanted to explore everything. He could imagine himself living here someday when he had expanded his kingdom out this way.
He imagined building a huge longhouse made of stones. A massive fortress, like the ones he heard sailors talking about in their tales of faraway lands.
A strong, safe home surrounded by a large stone wall. A wall to protect himself and his people from any enemies between their raids. He knew Runa would love it. He would marry her, and she would make a beautiful queen by his side.
He kept walking and exploring until the sun was high in the sky. He had finally turned around and headed back towards the mountains. Thorgaut had finally reached the edge of the woods. He came out into the plain that spread out toward the mountains. Now, all he had to do was follow the edge of the woods until he got back to camp.
He had been walking most of the afternoon since reaching the plains. But for some reason, he still hadn't come across any of his friends. Thorgaut felt confused. It seemed that he had walked back towards the East along the edge of the woods, even farther than he had gone West. He should have come across the camp by now. It was mostly out in the open, so it wasn't like he could have missed it.
Thorgaut kept an eye on the setting sun. Darkness would be falling fast. If he didn't find his friends soon, he would need to find a place to set up camp for himself. And he would have to do it while there was still light.
There would be a full moon later on that night, but it wouldn't rise until midnight. There were also some clouds in the sky that concerned him. They would block any light he could use to see by. He would be unable to continue looking for his friends until morning.
Thorgaut was about to turn off into the woods to find a suitable spot to sleep when he saw movement up ahead. He smiled to himself. He was getting old. Here he thought he had gone too far past the camp already. But fortunately, it was over. He was back, and this strange day would be over.
Thorgaut shook his head and chided himself. He was generally pretty good with directions and locations. He had remained alert and aware of his surroundings at all times. It was rare that Thorgaut found himself in a place where he could consider himself lost.
Thorgaut chuckled at the thought of telling his friends what had happened. "I thought was wrong and had gone too far. Yet it turns out I was right the whole time. So, it turns out that I have never been wrong. Only once when I thought I was wrong and yet had been right the whole time."
It was an old joke that he liked to tell. People knew he was generally right about everything. It was rare that anyone could outargue or debate Thorgaut. And once he made up his mind about something, it was rare anyone could persuade him to change it.
Thorgaut picked up his pace and soon came to the place where he thought he had seen the camp. There was no one there.
He did find a long cloth draped over a low-hanging branch swaying in the soft wind. That must have been what caught his attention earlier. It looked new and clean. Not like something that had been out in the open elements for very long. Nothing else indicated that anyone had been in the area recently though.
Thorgaut caught glimpse of what appeared to be a trail leading into the woods. If you could call it a trail. He tried to see where it led, but couldn't see much between the dusky twilight and shadowy darkness of the forest.
This looked about as good a place as any to set up camp. A dead tree had fallen to the side of the trail and would provide plenty of firewood for the night. He wouldn't have to do much for the night, and there would still be light for a little while.
Thorgaut decided to head down the trail a little way. Perhaps he would find the person who had left the cloth. Maybe it was left there purposefully to mark the trail. He hoped he could find someone to point him in the right direction to his camp first thing in the morning.