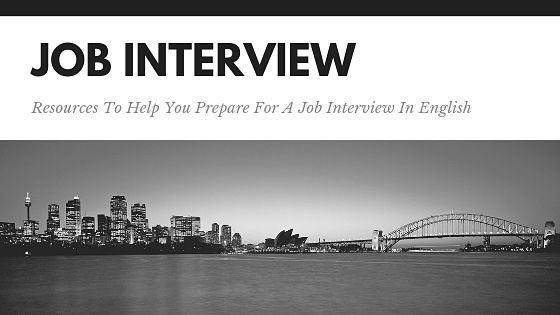 Resources To Prepare For A Job Interview in English
I recently received a request from an English student who is preparing for a job interview in English. So, here are a few resources if you want to prepare for an interview as well.
Common Job Interview Questions for ESL Learners – The first thing you need to focus on is increasing your vocabulary. So, it's good to brush up on your vocabulary learn any common terms related to the field that you are planning on entering.
Useful Vocabulary for a Résumé and Interview – Here are some more English vocabulary terms for you to learn and practice as well.
Prepare for These Tricky Interview Questions – Not all of the interview questions are going to be straightforward. The job interviewer may throw in a question or to trick you for at least force you to think about your answer.
36 English Dialogues for Job Application and Interview –
Here are some dialogues to help you practice some common questions and answer for a job interview in English.
1 Hour of English Vocabulary for Job Interviews –
Listen to this live session where these two English teachers talk about Job Interviews and help you learn some more key English vocabulary.
Occupational Outlook Handbook – The OOH can help you find career information on duties, education and training, pay, and outlook for hundreds of occupations
Job Interview Books In Kindle Unlimited
The BEST job Interview Advice Book by Devay Campbell
The 250 Job Interview Questions: You'll Most Likely Be Asked…and the Answers That Will Get You Hired! (English Edition) by Peter Veruki
Get That Job!: The Quick and Complete Guide to a Winning Interview by Thea Kelley
Mastering the Job Interview by Lavie Margolin
Job Interview Success – How to Land Your Dream Job by James Ricks